How To Change Gmail Phone Number And What is the Use of Phone Number In Gmail
Want to Change Gmail phone number? Want to know the uses of the phone number in Gmail? This tutorial will give you enough information on what you need.
Nowadays Gmail has become one of the most important tool in our day to day life for the business purpose, college students etc. The Gmail interface makes use of labels. These replace the conventional folders and provide a more flexible method of organizing email. There are filters for automatically organizing, deleting or forwarding emails to other addresses; and importance markers for automatically marking messages as 'important'. Every person is having minimum one Gmail account for their usage. However, when you are looking to create a Gmail account, it asks to enter the phone number. Do you ever think what is the use of Phone Number in Gmail? If you are looking for the answer, you are on the right page. Here we have given the details regarding the usage of a phone number and how to change the mobile number for your account.
What is the Use of Phone Number In Gmail:
When the phone number is activated, it prevents the man in the middle attack. The use of the mobile number helps to prevent hacking i.e; if hackers want to find the password, he will not be able to receive the verification code sent via SMS since it is sent to your SIM card only (that is the 2nd factor).
Also, in an effort to protect users from abuse, Gmail sometimes ask users to prove they're not a robot before they're able to create or sign in to accounts. By using this additional confirmation by phone, helps to keep spammers from abusing your systems.
However, there is a limit on the phone number to Gmail accounts. You have to use a different number if you get a popup notification saying "This phone number has already created the maximum number of accounts." In order o protect the users from the abuse, this limit has been implemented. Also, you can recover your deleted Gmail account by updating the phone number when you have created.
Gmail needs your number for the following reasons:
So that in case you lose your password, your number can be used to confirm your account.
To be used for 2-factor authentication purposes.
As mobile number plays an important role, one must update your phone number. If you have changed the number which you are using, then below are the steps to change the Gmail phone number.
How to Change Gmail Phone Number:
Firstly, go to Gmail.
Now, you will get two options like the sign in and create the account. If you are existing customer click on sign in button.
Enter your Gmail username as well as your password to redirect to your Gmail account.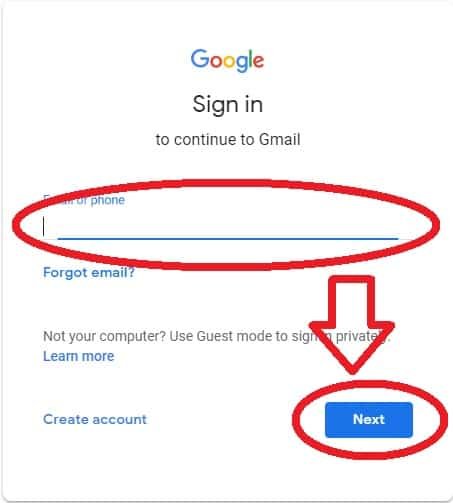 After completing of your login details, you will find your profile picture on the top right corner.
Click on that profile picture, in that, you will get privacy option as we shown in the screenshot.
By clicking privacy option, it will redirect to privacy and terms of your account in that click on the fourth option i.e., your privacy controls.
Next, scroll down until you get Go To Personal Info Option as we shown in below.
In that, some options will appear on your screen like name, email, phone, birthday etc.., click on phone option.
By clicking phone option you will get edit option on the top right corner, click on that.
It will automatically redirect to the login page to verify.
To continue now enter your Gmail password to verify it's you.
Again click on the edit button which you can see on the right corner.
Now click on update option to update your new mobile number for your Gmail account.
Successfully updated your new mobile number, continue your work. That's it!
Tags: how to change gmail phone number,how to change gmail phone number in mobile,how to change gmail phone number on iphone,how to change gmail phone number in app